Desert Safari Deals Dubai
Desert Safari Dubai is renowned for providing the greatest safari experience with belly dance; it has received accolades from Trip advisor and holds the top spot in Google's rankings. Moreover, the Desert Safari Deals Dubai gives you the chance to do a lot of exciting and interesting things in the desert. The desert will be the next stop on your Safari Dubai trip, and the tour guide will show you the way. You can experience of belly dance at desert safari Dubai.
Depending on the kind of desert safari you're interested in, Desert Safari Dubai provides a variety of all-inclusive package deals you want at one place. The safaris come with a wide variety of extra activities beside belly dance to choose from, such as dune buggies and quad bikes. They strongly suggest that you go on one of the most well-known excursions, such as the VIP Desert safari or the Overnight VIP Desert safari. All of which are conducted by highly trained and experienced professionals.
Amazing pick and drop services by the team of Best Desert Safari Deal:
To put it another way, he will come to pick you up at your location and drive you to our exclusive Best Desert Safari Dubai camp. In addition to this, you will be able to take part in a variety of rides and camp activities in the Desert Safari Dubai camp, such as belly dance and smoking the finest shisha. You will also be able to see incredible fancy dress performances. In addition, you can't miss out on the Morning and Evening Desert Safari Dubai if you're looking for deals.
Fun with Belly Dance at Camping:
You can get a good look at the camp from a distance, complete with the illumination and the people that are ready to welcome you into the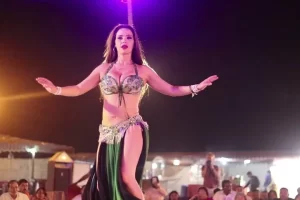 classic Arab atmosphere. Following the meal, you see a belly dancer amusing the guests by doing a greate belly dance to the rhythms of Middle Eastern music. The camp gives you the utmost in comfort, with wonderful cushioned chairs and carpets put out for you to enjoy throughout your stay. In this location, you may indulge in some authentic shisha or freshly made Arabian tea. At the dinner buffet, you will be served a tasty and healthy meal that will include meat, the main dish, salads, and desserts.
Enjoyable Excursion at Desert Safari:
The Dubai Desert Safari is without a doubt the most amazing and enjoyable excursion that one can have in the United Arab Emirates. Therefore, if you are seeking a service provider that offers desert safaris in Dubai, when that time comes, you can count on them to be here to lend a hand. You have the opportunity to participate in our Best Desert Safari Dubai deals and get access to some very incredible activities, events, and rides throughout the excursion. Overall, the unforgettable Overnight Desert Safari Tour includes a dune bashing trip, a ride on a quad bike, an exhilarating sand boarding experience, and many other fun things to do.
Conclusion:
The Safari Desert in Dubai offers a variety of one-of-a-kind experiences, and you will enjoy the tranquil atmosphere of the desert. In addition to this, the start of your safari excursion will be determined by the moment that one of the experienced safari riders picks you up from your hotel or house in Dubai. To put it another way, the Safari Desert in Dubai is one of the most well-known tourist destinations, and there, in the desert of Dubai, you may go on a camel ride to have a better look around. The specialized Dubai city trip also includes the Desert Safari Dubai with belly dance, which is packed with exciting and entertaining activities.
Contact us for more Tourism attraction points in Dubai: Dhow Cruise Deira Dubai, Eagle Eyes Tourism LLC